Underfloor Heating Installations in New Builds or Re-Developments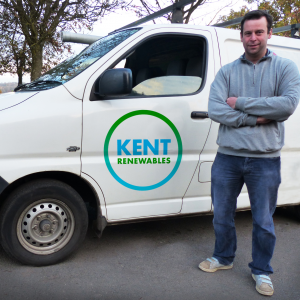 Kent Renewables are specialists in underfloor heating. We can install all brands of underfloor heating and are registered installers for Nu-Heat, the U.K's leading supplier of underfloor heating. We undertake all sizes of project from conservatories to large industrial spaces, and can provide design drawings and flow rates to ensure that the system is working as efficiently as possible.
Underfloor heating can be fitted to almost all floor surfaces, such as screed, existing joists (to avoid raising floor levels), or upstairs below a timber floor. Underfloor heating is designed to work at low temperatures and is the perfect solution for both boiler and renewable energy sources (installed now or in the future). Our systems are fully commissioned and guaranteed to ensure they are working perfectly. As well as removing the need for radiators and freeing up wall space, underfloor heating provides a comfortable balanced heat that is energy efficient. We work throughout Kent and the South East and have completed projects in Bromley, Orpington, Sevenoaks, Tonbridge, Tunbridge Wells, Westerham, Oxted, through Sussex, Surrey and down as far as Brighton.
Benefits of installing Underfloor Heating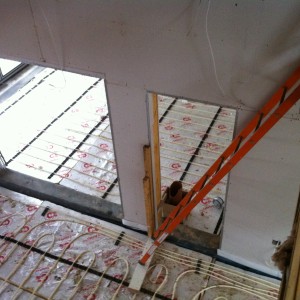 • Cost to run. An average underfloor heating system costs anywhere between 15% – 40% less than a conventional radiator system to run.
• Cheaper to buy and install than a radiator system when installing an underfloor heating system into a new build property with a screeded floor.
• Space saving. Underfloor heating enables you to design your room using all the room space without having to work around unsightly radiators.
• Comfort. Underfloor heating provides a much more comfortable environment, the heat surrounds you leaving no cold spots unlike a radiator system.
• Hygiene. Underfloor heating helps to reduce house dust mites as the moisture content is too low to allure dust mites to live, giving asthma sufferers a much better living environment.
• Underfloor Heating Control. Underfloor heating is controlled by a thermostat in each room enabling each room to be set to your desired temperature.
• Underfloor Heating Maintenance. Our systems have no joints in the floor unlike a radiator system which has joints for each radiator All the pipes and cables return to the manifold allowing easy maintenance as all connections are located in one place (at the manifold).
• Warm Floors. Underfloor heating leaves you with a nice warm floor so you can install practical floor coverings without them being cold.
Retrofit Underfloor Heating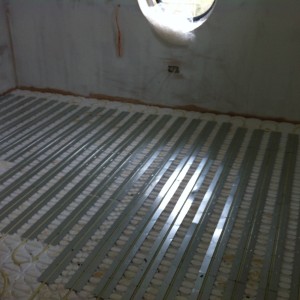 Underfloor heating is not just reserved for a new build, we can retrofit underfloor heating in a re-development project too. The biggest challenge to installing underfloor heating in an existing building is often height build-up. Kent renewables are registered installers of LoPro10™, a floating floor with just 15mm height build up and excellent thermal properties that can be fitted on top of the existing floor deck.
Nu-Heat's LoPro10™ retrofit UFH system has been designed as an alternative method of heating existing domestic properties. Homes built within the last 20 years and those that have undergone fairly standard insulation upgrades can now benefit from all the advantages of underfloor heating usually reserved for new-build.
Renewable Energies
Kent Renewables also provide specialist installation of Air Source Heat Pumps, Ground Source Heat Pumps, Solar Thermal Collectors & Rainwater Harvesting.
Guaranteed & Supported
"Kent Renewables are a registered Nu-Heat Installer, the largest specialist supplier of warm water underfloor heating systems to the UK domestic market."
One Solution
The range of underfloor heating, air source heat pumps, rainwater harvesting and solar thermal collectors all integrate seamlessly to provide a system tailored to each customer.